Currently, some strange creatures have been seen on one of the sea shores of the world. You have never seen such sea creatures before. Some photos of these creatures are also going viral on social media.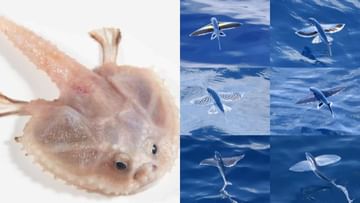 Our world is made up of many mysteries, beautiful places, beautiful creatures and things. The beauty of the world reflects the excellent artistry of God. But along with this beauty, many strange creatures, places and things are also present in this world. Strange creatures are often found in the world. Currently some of the world's sea coast weird Creatures have been seen. You have never seen such sea creatures before. Some photos of these creatures are also going viral on social media.
2 new marine parks are located 2,500 km off the west coast of Australia. Explorers have found strange creatures during sea exploration expeditions in that area. Scientists are also surprised to see these creatures. The area is surrounded by seamounts formed during the dinosaur age. The place where these creatures were found is between the Pacific and Indian oceans.
Strange sea creatures
A Host of Bizarre Creatures Has Been Found At The Bottom of The Ocean https://t.co/oT6RYiKOSU

— ScienceAlert (@ScienceAlert) November 3, 2022
Introducing one of the most fascinating #fish that we've found in our #deepsea surveys of the waters near Christmas and Cocos (Keeling) Islands …

It's the #tripodfish, or tripod spiderfish!! 🐟🔭🕷️

Image: Ocean Exploration Trust/WoRMS via @FishesAustralia. #InvestigatingTheIOT pic.twitter.com/i7ZLywAXNM

— Bush Blitz (@BushBlitz2) October 18, 2022
Been photographing flying fishes all day every day. I think we're up to 6 species now, but I'll need to check. What a stunning group of fishes these are! #RVInvestigator #InvestigatingtheIOT @CSIRO @austmus @museumsvictoria @BushBlitz2 @ParksAustralia pic.twitter.com/H0UWi5zNt2

— KaiTheFishGuy (@FishGuyKai) October 5, 2022
The newly created marine park will protect the marine area around Cocos Keeling and Christmas Island. The explorers traveled 13,000 km in the sea during their 35-day search. Along with these strange sea creatures, they also found volcanoes and seamounts. One of its volcanoes was formed about 14 million years ago. All this was found while mapping the sea area using sonar.
All these strange creatures were found in nets thrown 5,500 meters into the sea. From the photos of all the creatures it can be guessed that these creatures are really strange and never seen before. There will be many such creatures in the depths of the sea, which mankind has not seen till date.
Related Video: